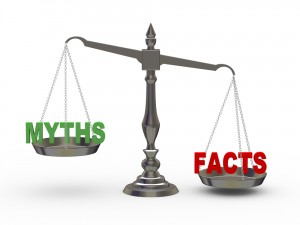 Do you want to know more about dental bridges? Then the following blog post can help. Many patients have been misinformed about bridges and Peddicord Family Dentistry aims to change those views. Dr. Erika Peddicord, your Ankeny, IA dentist, debunks a some common myths surrounding the subject of dental bridges.
The True Dental Bridge News
Dental Bridge Myth # 1 – A denture is the same as a dental bridge.
The only truthful comparison with this statement is that both of these tooth replacement options utilize false teeth. However, a denture is typically removable, whereas a dental bridge is permanent solution. Plus, dentures require special care and a bridge functions just like a natural tooth.
Dental Bridge Myth # 2 – All dental bridges fall out.
Bridges tend to stay in place for practically a lifetime; although, occasionally, bridges can dislodge from the mouth. Should this happen, keep the missing component, and visit your Ankeny, IA dentist to replace it.
Dental Bridge Myth # 3 – No dental insurance company will cover the cost of dental bridges.
In the past, bridges were considered a cosmetic procedure and dental insurance wouldn't cover the cost. Today, bridges serve as a tooth replacement option, similar to dentures. Therefore, a majority of dental insurance companies began to cover the cost—if not fully, then at least partially.
Dental Bridge Myth # 4 – People will know I have a dental bridge.
A bridge is usually manufactured from porcelain or ceramic—the most natural-looking materials available. Unless you tell others that you've had the procedure, no one will know you have a bridge.
Dental Bridge Myth #5 – Pregnant women can't have a dental bridge procedure.
This rule applies more to teeth whitening treatments. Since teeth bleaching involves the use of chemicals, pregnant women have been advised to not have those types of procedures. A routine dental procedure, though, won't affect the baby.
Peddicord Family Dentistry Can Outfit Your with a Dental Bridge
For patients who have considered receiving a dental bridge to replace missing teeth, consult your Ankeny, IA dentist. Dr. Peddicord can speak with you about the process and answer any questions you may have. To schedule an appointment, call us at (515) 963-3339. Also, visit our website for patient forms, oral care tips, and to learn about our team. We happily serve new and existing patients in Bondurant, Polk City, Elkhart, Alleman, and Cambridge, and neighboring areas.