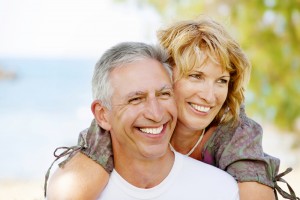 Losing your teeth isn't the end of the line! If you've lost some, most, or all of your natural teeth, you may have given up on laughing when you please, eating your favorite foods, and speaking without feel self-conscious. Life should be lived to its fullest, and replacing your missing teeth with natural, durable, and comfortable dentures or dental implant dentures can help you recapture that zest for living.
All about Traditional Dentures
Modern dentures are made from durable acrylic and are hand-crafted by skilled dental technicians to closely resemble the look of natural teeth and gums. Although the dentures of yesteryear were often ill-fitting, today's dentures are custom-fitted to the contours of your mouth so they'll fit better and feel more comfortable.
Most patients (especially those who are new to dentures) usually need some time and practice to adjust to wearing dentures. However, the wait is certainly worth it, since dentures:
Allow you to eat a wider range of healthful foods
Alleviate speech problems caused by missing teeth
Restore the structure to your facial muscles, making you look younger and healthier
It should be noted that because dentures rest on top of your gums, the underlying jawbone tissue will begins to deteriorate over time, causing the gum ridge to change shape. This will necessitate occasional adjustments in the fit of your dentures.
Dental Implants: Replacement Teeth of the Future
Dental implants are made up of a small, screw-like titanium device that acts just like the root of a natural tooth. Once the implant has been inserted surgically into the jaw, your dentist can use it to anchor a dental crown, bridge, or even a full denture plate. Dental implants have a few advantages over traditional dentures:
They help prevent jawbone deterioration by promoting the flow of bone-boosting nutrients to the jaw
Dental implants won't slip out of place and they don't require adhesives
Dental implants don't have to be readjusted for fit
ABOUT YOUR ANKENY DENTIST
Dr. Peddicord offers a complete range of preventative, cosmetic, and restorative dental procedures as well as high quality dental prosthetics. Dr. Peddicord can answer your inquiries, and provide the services you need to maintain the health, beauty, and function of your teeth. To schedule an appointment at Peddicord Family Dentistry, please contact us at 515-963-3339. Our Ankeny, IA dentist's office proudly provides general and cosmetic dentistry services to patients from Bondurant, Polk City, Elkhart, Alleman, and Cambridge.