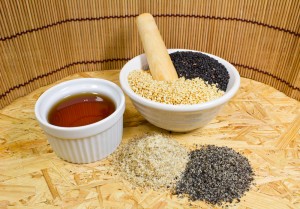 Some homeopathic remedies have no basis in science, so it's hard for someone who requires proof to put any faith in them. Still, there are tried-and-true supplemental health practices that certainly can't hurt, and may even help. Take oil pulling for example. This do-it-yourself procedure is credited to ancient Ayurvedics, but it is gaining popularity in modern America. The theory is that pure organic oils pull bacteria and other unfriendly organisms out of your mouth, leading to better overall dental and overall health.
Oil Pulling
You can take your pick of the oil you choose for pulling – coconut, sunflower, and olive (as long as they are extra virgin cold pressed) are all considered acceptable and effective. However, the most popular oil for this treatment is organic sesame oil. Some experts suggest alternating oils for optimal effectiveness. No matter what oil you choose, the procedural elements are the same. Begin with about a tablespoon, first thing in the morning, before you've consumed anything. Swish the oil in your mouth for 20 minutes mixing it with your saliva. It will eventually turn into a thick, white liquid as the minutes go on. When your timer goes off, spit the oil out, as the idea is that toxins and bacteria have been pulled into the oil/saliva mixture. Rinse with clean water and then brush your teeth as normal.
No Substitute for Preventive Care
Do dentists believe that oil pulling will eradicate Streptococcus mutans (the bacteria that cause tooth decay) lessen plaque/tartar buildup, and reduce halitosis? Anything is possible. However, homeopathic remedies should not replace preventive dental efforts. Six month checkups, brushing twice-a-day with a fluoridated toothpaste, and flossing are still important elements of a clean and healthy mouth. Home treatments such as oil pulling should be considered as merely supplemental.
About Peddicord Family Dentistry
Dr. Erika Peddicord earned her DDS degree from the University of Iowa College of Dentistry and opened Peddicord Family Dental in 2009. Her enthusiasm for building lasting relationships with her patients and her dedication to oral health set her apart as an outstanding family and cosmetic dentist. New and returning patients can schedule an appointment with Dr. Peddicord at our Ankeny, IA dentist's office by calling (515) 963-3339. We proudly serve patients and families in Bondurant, Polk City, Elkhart, Alleman, and Cambridge.