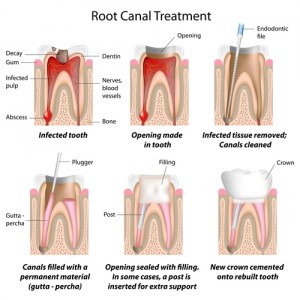 You would probably be lying if you said the words "root canal" didn't send a shiver up your spine. Unfortunately, many people feel this way about root canal therapy, despite the fact that this is a common and comfortable treatment option. In fact, without this endodontic treatment, an infection or abscess could lead to painful symptoms and potentially even tooth loss.
Frequently Asked Questions About Root Canal Therapy
Question: Why is this treatment option important?
Answer: When a tooth becomes infected or abscessed, treatment is crucial for preventing the spread of infection to surrounding teeth or the jawbone itself. Otherwise, the tooth may need to be removed to protect your overall oral health.
Question: How do I know if I have an infected or abscessed tooth?
Answer: Common warning signs include toothaches and tooth sensitivity to hot or cold temperatures. Patients may also encounter fever, swelling around the tooth, a foul tasting discharge, and pain when biting down or chewing. If one or more of these symptoms sound familiar, the please schedule a visit with a dentist right away.
Question: What does the procedure involve?
Answer: During the procedure, we will carefully make an opening in the tooth. We then remove the infected tissue before cleaning and disinfecting the tooth. After adding a restorative material to the interior of the tooth and root canals, we place a crown.
Question: How will my tooth look after the procedure?
Answer: Yes. The crown we place will be custom-made to blend seamlessly with your smile. The restoration also prevents the risk of further infection or decay and protects the remaining tooth structure.
About Your Ankeny Dentist
Dr. Peddicord offers a complete range of preventative, cosmetic, and restorative dental procedures as well as high quality dental prosthetics. Dr. Peddicord can answer your inquiries, and provide the services you need to maintain the health, beauty, and function of your teeth. To schedule an appointment at Peddicord Family Dentistry, please contact us at 515-963-3339. Our Ankeny, IA dentist's office proudly provides general and cosmetic dentistry services to patients from Bondurant, Polk City, Elkhart, Alleman, and Cambridge.