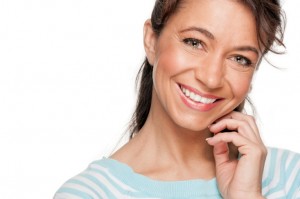 Fed up with dull, yellow teeth ruining an otherwise lovely smile, you talked to your dentist about professional teeth whitening. You moved forward with treatment and now you've got your custom-fitted trays and syringes of whitening gel home. The steps you take during and after whitening your teeth at home can enhance your results safely.
Follow Your Dentist's Instructions
Before sending you home with your kit, your dentist will discuss your treatment plan, including when to wear your trays and for how long. Together, you will also set a goal shade. Once you begin treatment, be sure to follow your dentist's instructions to the letter! Don't leave your trays on longer than suggested and once you reach your goal shade, stop using the trays. Store them away for touch-ups in a few months. Overuse of whitening trays may result in tooth sensitivity, thinned enamel, and artificially white-looking teeth.
Use Makeup to Enhance Results
Secreted away in your makeup bag are the tools to make your newly whitened teeth look even brighter. Next time you're primping for work or a night out, try some of these techniques:
Use a plumping gloss to give your lips a fuller look. These products use cinnamon oil, peppermint oil, and other compounds that stimulate blood flow to the lips, resulting in a plumping effect. Fun Fact: Studies have shown that men find fuller lips more attractive.
Go for golden skin. Use a self-tanner designed specifically for use on the face or a BB cream in a shade slightly darker than your natural tone, to give your face a sun-kissed look. Your richer skin tone will cause the brightness of your newly whitened teeth to pop.
Extend the Life of Your Whitening
You invested the time and money into professional teeth whitening. Take the time to care for your new smile and keep it looking better longer. Drinking your beverages out of a straw is the best method for avoiding stains from accumulating on your enamel. Rinsing your mouth with water after consuming high-staining foods and drinks (think coffee, wine, juice, and berries) will also help keep your smile whiter.
About Peddicord Family Dentistry
Dr. Erika Peddicord earned her DDS degree from the University of Iowa College of Dentistry and opened Peddicord Family Dental in 2009. Her enthusiasm for building lasting relationships with her patients and her dedication to oral health set her apart as an outstanding family and cosmetic dentist. New and returning patients can schedule an appointment or teeth whitening consultation with Dr. Peddicord at our Ankeny, IA dentist's office by calling (515) 963-3339. We proudly serve patients and families in Bondurant, Polk City, Elkhart, Alleman, and Cambridge.