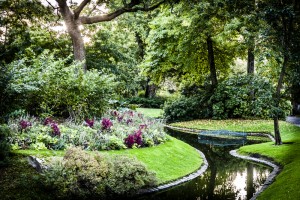 Looking for a relaxing and inexpensive day out? Get the family back in touch with nature at the Greater Des Moines Botanical Garden. Recommended by your Ankeny IA, family dentist Dr. Ericka Peddicord as an inexpensive and enjoyable way to take in natural beauty, become one with the world, and nourish your Zen.
What: The Greater Des Moines Botanical Garden
Where: 909 Robert D. Ray Drive, Des Moines, IA 50309
When: Open daily 10:00 AM to 5:00 PM
Admission: Adults $5; Seniors (65+) $4; Military Personnel $4; Students (4-17) $3; Children (3 and under) FREE
Explore
Both indoors and outdoors and no matter the season, you can enjoy the experience of beautiful, natural gardens all year round at the Greater Des Moines Botanical Garden. Under a sheltering canopy of palms and other non-native trees, the conservatory features tropical flowers and plants from around the globe such as exotic orchids, leaves of bromeliads, and prickly cactus. A more local botanical venue can be found outside celebrating the seasons. While you're visiting make sure to explore the following displays:
What's in Bloom: Photographic journal of flowers currently in show and on display
Plant Collections: Culturally relevant collections of flowers, tropical, and woody plants
Our Master Plan
Garden Etiquette
Conservatory & Indoor Gardens
Outdoor Gardens: Featuring seasonal highlights
About Your Ankeny Dentist
Dr. Peddicord offers a complete range of preventative, cosmetic, and restorative dental procedures as well as high quality dental prosthetics. Dr. Peddicord can answer your inquiries, and provide the services you need to maintain the health, beauty, and function of your teeth. To schedule an appointment with Dr. Erika Peddicord, please contact us at 515-963-3339. Our Ankeny, IA, office proudly provides general and cosmetic dentistry services to patients from Bondurant, Polk City, Elkhart, Alleman, and Cambridge.