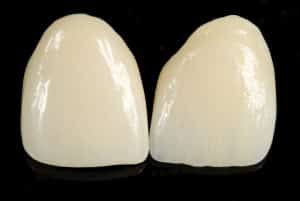 There are several ways you can improve your smile. You can change the shape of your teeth, fix chipped or broken teeth, whiten your teeth, and more. Some procedures are minor and non-invasive, some take longer than others, some are more invasive than others, and with some the finished product may last longer than others, but there are many options, one of them being porcelain veneers.  Veneers are minimally invasive and can last for years. So, if you're looking for ways to improve your smile, how about veneers?
What is a Porcelain Veneer?
Porcelain veneers are wafer-thin shells of medical-grade ceramic, or porcelain.  Custom fabricated to "fit" the curvature of your lips, the shape of your face, match the size and shape of your natural teeth and original smile, veneers are better than your natural teeth due to the use of high-tech material that resists stains from coffee, tea, and cigarette smoke. The color, pearlescence, and translucence are so similar to natural dentition that it is nearly impossible to tell the difference between a veneer and a natural tooth.
How Veneers are Placed
Porcelain veneers are very, very thin, but to fit against the front of your tooth without making your tooth look bulky, as little as .5 millimeters of tooth enamel will need to be removed. You will probably not need any type of anesthesia for this treatment. Impressions will then be taken of the prepared teeth and sent to a lab where the veneers will be fabricated. Placing the veneers will require a second visit when the veneers are ready. At that time they will be permanently bonded to the front of your teeth, and voilá, a brand new smile.