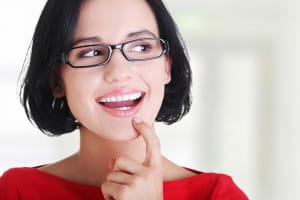 You may feel like you have spent your entire life hearing about the importance of preventive dentistry. In fact, you probably feel pretty certain that when we suggest you visit us once every six months for a preventive visit that we are doing you a major favor. However, because you may not fully know why we make these recommendations or the extent of prevention's power for protecting your teeth and gums, you may occasionally forget to schedule a visit or skip one. Before you trick yourself into believing a missed appointment is no big deal, we ask that you learn more about preventive services. The more you know, the greater your chance of enjoying a beautiful, healthy smile for many years to come. Test your knowledge!
Preventive Dentistry True-or-False Quiz
True or False: By the time your gums become swollen, it is too late to do anything about periodontal disease – you will immediately need specialized care.
True or False: We suggest that you keep your teeth really clean so they look healthy but there's not really much you can do to stop a cavity from forming.
True or False: We suggest dental checkups as part of preventive care so we can quickly treat problems as they arise.
Prevention Quiz Answer Key
False. Preventive dentistry goes a long way in dealing with gum disease. First, we suggest preventive cleanings so inflammation never even occurs. However, if swelling or other symptoms develop, we can still reverse the problem if we catch it soon enough. We urge you to contact immediately if your gums appear red or swollen, so we may treat your gingivitis and prevent it from advancing.
False. Another reason we feel so strongly about consistent preventive dentistry is because it greatly improves your ability to avoid tooth decay. By removing plaque with home care (followed by dental cleanings twice a year), you protect your smile. Plaque is the leading cause of cavity formation – if it is not on your teeth, it is quite unlikely you will suffer from a cavity.
True. Though we would prefer for you to enjoy consistently healthy teeth and gums and supportive oral structures, sometimes things happen. You may strain your jaw joints (TMJ disorder) or clench your teeth (bruxism). Whatever occurs, the sooner we detect the concern and offer treatment, the greater the success rate of that treatment.
ABOUT YOUR ANKENY DENTIST:
Dr. Peddicord offers a complete range of preventative, cosmetic, and restorative dental procedures as well as high quality dental prosthetics. Dr. Peddicord can answer your inquiries, and provide the services you need to maintain the health, beauty, and function of your teeth. To schedule an appointment at Peddicord Family Dentistry, please contact us at 515-963-3339. Our Ankeny, IA dentist's office proudly provides general and cosmetic dentistry services to patients from Bondurant, Polk City, Elkhart, Alleman, and Cambridge.