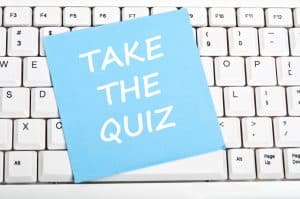 Are you someone who is looking very closely in the mirror lately because you're obsessed with what looks like a very faint crack in your tooth? Are you also worrying a lot because you're concerned this is a very big deal and you don't really want to face the music? Fortunately, you're probably seeing a craze line in your smile. Even better? It's not something that is going to require much (if anything) at all. Get questions answered and worries alleviated with our quiz.
Quiz Questions: True or False?
True or False: A craze line is definitely a type of crack. However, it is not one that you need to worry about because it is not going to negatively impact your smile health.
True or False: This type of problem affects your enamel (outer tooth layer) and your dentin (the next layer after your enamel), so it could lead to serious problems in the future.
True or False: Fortunately, you are not stuck with craze lines that you feel are obvious and that you would like hidden.
Quiz Answers
True. The craze line is a crack that is very minor, which means that it will not negatively impact the structural integrity of your tooth.
False. It only impacts your enamel. As a result, though we will monitor every type of change when you visit us for checkups, it is not something that is likely to lead to any significant damage.
True. Cosmetic dentistry will let these lines become a distant memory. You have the options of removing associated stains or camouflaging them, so nobody notices that they are there.
Find Out More Regarding Craze Lines At Our Practice
Come on in for a visit with us, so we can examine your teeth, take a look at any present cracks, and then talk with you about how to best handle existing craze lines. Find out if you're making good choices by scheduling a visit with your Ankeny, IA dentist today! Contact Peddicord Family Dentistry to set up an appointment by calling 515-963-3339.