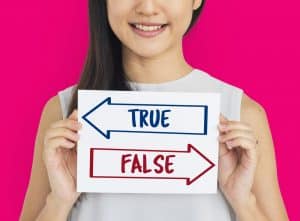 When your smile is in peak condition, you come to us for preventive visits, you go home and care for your smile, and the cycle repeats. However, when you come in for a visit and you require assistance with a dental-related disease or damage, it's time for a new type of dental service: You need restorative care. Do you know much about how this can help you when you need it? Or, is this a somewhat foreign world, the details of which remain a mystery to you? Take a whirl through a quiz to find out.
Quiz Questions: True or False?
True or False: When you need restorative care, we can only help you if you're dealing with a minor problem with your oral health.
True or False: We offer a complete listing of services, so you don't have to worry that you'll need to go elsewhere for particular restorative treatments.
True or False: Extractions are considered restorative in nature because they will resolve the problem that your mouth is experiencing and then provide you with the healthy tissues necessary for a replacement.
Quiz Answers
False. Restorative care is quite comprehensive, meaning it can help with hygiene-related diseases, structural damage, and serious infection. From minor to more serious, our care is ready to help.
True. Our practice is dedicated to making dental care easy for you, which is why we offer fillings, crowns, root canals, and extractions.
True. The goal with restorative dentistry is to make your smile healthy again. Removing a tooth is often the best way to head toward achieving this goal.
See Us For Your Restorative Care Needs
If you require help with a dental injury or illness, come in for your restorative care ASAP. Find out if you're making good choices by scheduling a visit with your Ankeny, IA dentist today! Contact Peddicord Family Dentistry to set up an appointment by calling 515-963-3339.